Prof Feyi Adepoju's profile
---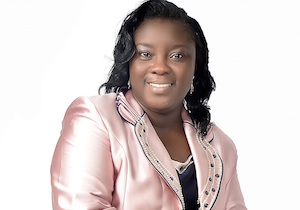 Dr (Mrs) Adepoju Feyisayo Grace graduated from Ahmadu Bello University, Nigeria in 1991 where she bagged Bachelor of Medicine and Bachelor of Surgery (MBBS) and won the Alba Medical award for the best graduating student, Glaxo Paediatric Prize, A.I Saha Prize for Community Medicine and best award for Obstetrics and Gynecology and Surgery.
Her career in Ophthalmology began with her residency training in 1995 during which she won the Oyin Olurin prize for the best candidate in part 1 fellowship examination and obtained Fellowship of the National Post graduate Medical College of Nigeria (FMCOphth) and Fellowship of the West African College of Surgeon (FWACS) by the year 2000 and 2001 respectively.
She had further professional sub-specialty training in Cataract and anterior segment (Aravind Eye Hospital, India) Community Ophthalmology certificate (Groote Schuul Hospital, University of Cape town, South Africa), Master in Community Eye Health (London School of Hygiene and Tropical Medicine, University of London).
She was appointed Consultant Ophthalmologist and lecturer 1 in 2001 with University of Ilorin Teaching Hospital/University of Ilorin. She rose to the position of a Associate Professor in 2011 and Professor in 2014. Her passion and focus is on Community Ophthalmology/Cataract and anterior segment.
Her community Ophthalmology work Involve several community outreaches, advocacy, public health lectures in communities, religious organizations and institutions. She delight in activities supporting Promotion of eye health such as production of information leaflets, films and documentaries on eye heath, several television and radio programs on eye health.
Her film of Prevention of cataract blindness titled YOU ARE MY EYE (2011) was aired in over 27 TV stations in Nigeria and some television houses in Africa. You tube viewers is over 56,000. The second film titled STILL WATER creates awareness on glaucoma a silent killer of sight.
She is a recipient of several awards such as award of Innovative Contribution to prevention of Blindness and the Progress of the Ophthalmological Society of Nigeria in 2011 by Africa Ophthalmology Council, Leadership award for Human Capacity Building amongst others.
She is also a recipient of Commonwealth, DFID, Sight Savers Butlers fellowship awards.
Member International Eye Research Network (IERN) UK, participant twice at ORBIS International DC-10 Aircraft Flying Eye Hospital, Ilorin 2006 and 2011 and the Ocular Morbidity Studies, Nigeria. She is a reviewer for 5 journals, examiners at Post graduate level and trainer of medical student, resident doctors and other allied health care workers. Presently the Secretary Public health Ophthalmology, Treasurer Faculty of Ophthalmology, Nigerian Postgraduate College of Surgeon and the Advocacy Chair, Africa Ophthalmology Forum. She has 56 published papers in local and international journals and three published books on eye.
Feyi is the founder of two non-governmental Organizations named; Help for the Underprivileged ministry and Telavision media.